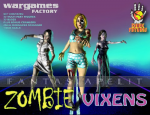 The Zombie Apocalypse is upon us. Scores of hungry, reanimated corpses roam the planet ravenous for their next meal. Among the living, fear reaches a paralyzing climax as they watch their numbers rapidly dwindle.

Enter the Zombie Vixens. Who knew that the mindless undead could be quite so... appetizing? The Vixens' tattered clothes strain against their bodacious, mangled curves and as they lurch forward you are almost hypnotized by their shocking female forms. But you had better snap out of it and run like hell or you will be these ladies' next conquest. And remember... no kissing!

28mm, multi-part, hard plastic miniatures. Each kit contains 30 figures as well as 6 additional "crawlers".