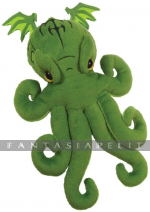 When Cthulhu eats a cultist's sanity, they're in trouble. But when he eats their dice, he'll give them back.

The Cthulhu Dice Bag is soft plush, with far more eyes, tentacles, and wings than any ordinary dice bag. He'll hold dozens of ordinary six-siders or non-Euclidean polyhedrons. Or, of course, Sanity tokens from Cthulhu Dice. Or cursed jewels, or gravel, or bus tokens, or all of them together. Just remember that to get them out, someone has to put a hand inside Cthulhu. If you're okay with that, this is the perfect dice bag.

Using the Cthulhu Dice Bag in summoning rituals is not recommended, but mostly because summoning Cthulhu is really a bad idea. Just let him hold the dice.

• He's soft and cuddly, with tentacles!
• The zippered compartment won't lose dice like lower-quality drawstring bags.
• Tentacles, wings, bulging eyes – but the plushiness offsets the sanity loss.

Description: Cthulhu-shaped plush dice bag, 15" long from wingtip to tentacle-tip, and 9" wide from tentacle to tentacle.